Redlands Constructions and P3 Projects present to you a new project – Reflections Cleveland, an eight storey, 59 unit complex situated on the corner of Fitzroy and Middle Streets Cleveland.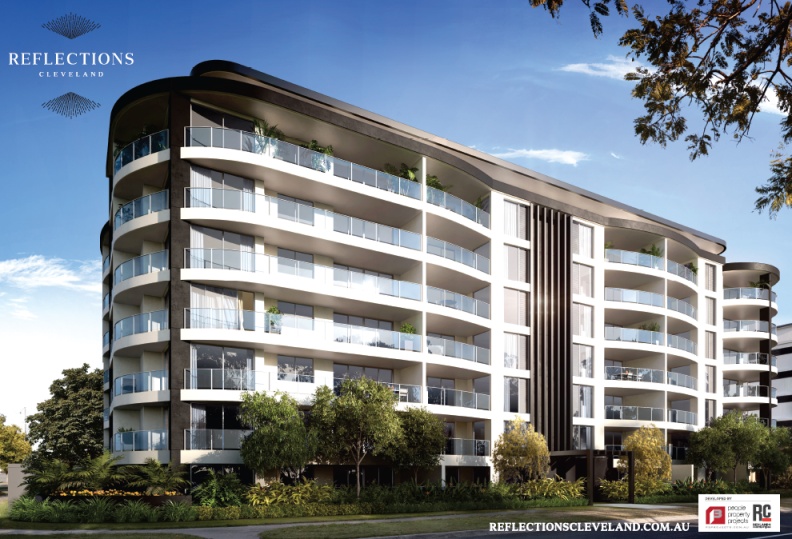 Redlands Constructions' owner Peter Endacott, together with Dario Pigozzo of P3 Projects are excited to deliver another quality offering to the market, after the success of previous developments View Point and 32 on Middle proved such a welcome addition to Cleveland's hub. Having lived and worked in the area for over four decades, Peter is a passionate Redlands local, who is enthusiastic about supporting local business and positive growth in Cleveland.
"With a recent Urbis Report highlighting an increase of almost 21,000 new residents in the Redlands over the next five years and with 10 per cent of those people predicted to move into Cleveland, there's no better time to release something special to the market," Peter said.

Reflections Cleveland will be perfectly crafted, with apartments carefully designed to capture the bay breezes and extensive views. It will have those special touches that set it apart from the rest.  With a mix of spacious 1, 2, 3 bedroom and penthouse apartments within a sleek architecturally designed residential complex, Dario and Peter believe that these apartments will be attractive for first home buyers, up and coming professionals, empty nesters and those looking for comfortable, low maintenance and relaxed living.
"This development has been designed from the ground up with a focus on uncompromising design, build quality and the aim to make it one of the most sought after addresses in Redland City," said Dario. With a 2012 State UDIA award under its belt for their bespoke 'Rair' apartments on Balmoral Hill, good design and carefully considered living is P3 Group's ethos and the basis for Cleveland's newest addition.
Reflections Cleveland will have a definite focus on communal spirit, as in a village. There will be a recreation area with a pool and a communal barbeque. A multi-purpose communal room will be constructed and it will be here that people will be able to hold meetings, gym and craft sessions, demonstrations, communal celebrations and the like.
"We're incredibly lucky to have the beautiful Bay islands and so much convenience at our doorstep.  It's only fitting that we match what can be an amazing lifestyle with an equally impressive product. We invite interested buyers to choose apartment living that enhances their lifestyle choices, which is exactly what Reflections Cleveland is aiming to do", Peter said.
Our on-site sales office will feature displays of plans, fixtures, fittings, finishes and all the information that you would want to know about our project. With construction commencing in 2016, Reflections Cleveland has something for everyone.
For further information and discussion, you can contact Peter on 0411 887 750.